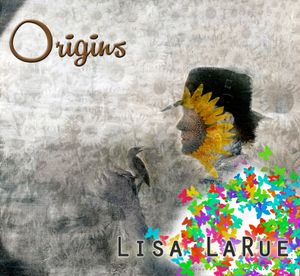 Recently signed to Melodic Revolution Records, keybordist & composer Lisa LaRue is set to release her new album "Origins" in April 2018! A double album celebrating 25 years and 11 release by LaRue, "Origins" features some of the best musicians in the business: John Payne Asia, GPS), Michael Sadler (Saga), Mitch Perry (Talas, Aerosmith), Gilli Smyth (Gong), Don Schiff (Rocket Scientist, Kracked Earth), Federico Fantacone (Orchestre Celesti) John Baker (Forever Twelve, Mars Hollow) as well as Steve Adams, Brenda K, Michael Wheeler, Merrill Hale, Svetlan Raket (Par Lindh Project), John "Yafke" Timothy, Michael Alvarez. 
Says Lisa, "The title takes it back to where it all started. Finishing a career, where one started. The photo on the back of the CD was taken on Burnett's Mound, an infamous site in Topeka, Kansas where I grew up, and where the photo of 'Kansas' was taken on the back of their first album. They were very influential and inspirational to me as a young keyboardist/musician growing up in Topeka. The Sunflower on the front represents my origins in Topeka, as well." 
Lisa LaRue became the first female artist signed to the Sound of America Records label (SOAR) a sub label of Natural Visions, the first all-Native American record label founded by Grammy Winner and Motown producer Tom Bee. In 2008 Lisa was nominated for a Hollywood Music Award and was also awarded The Oklahoma Music Award for "Native American Artist of the Year." Her band 2KX was Nominated as Instrumental Band of the Year in 2011 by the Los Angeles Music Awards. 
Lisa has also appeared on recordings by others, including Head Transfer Process (Stargazer), Esquire with Nikki Squire ("Stay Low"), Don Schiff, Ryo Okumoto, Oliver Wakeman, Steve Gresswell, Quester and Beyond the Labyrinth. 
The songs on "Origins" were written and recorded over 25 years. Some in a small recording studio in Tahlequah, OK over a year's time with John "Yakfe" Timothy, and some in Los Angeles working extensively with John Payne as a co-producer, mixing engineer, bassist and vocalist. Also certain songs were known as some of the first prog projects done via internet transfer, and finalizes with "Sussuration" and "Lemniscate," completely produced and mixed by LaRue. 
Says Lisa, "This album is extremely important - it's important to me, as it represents 25 years of my life, and some of the best work I've done with some of the best friends in the world. It's important because it represents the unity and bringing together of many musicians, big and small, through the universal language, music. Lastly, it's important to fans, as it represents some of the obscure work of many top-notch artists that they may not have in their collection. Melodic Revolution and Nick Katona have always been known for bringing artists together, so there is no better label to showcase this 25 year effort." 
"Lisa has a unique perspective to her music. Her Prog rock style is highly influenced by her Native American roots. The listener is drawn in by the mystical and avant-garde approach. From my point of view it has always been a pleasure and great experience working on her music." - John Payne 
"A very atmospheric composition, with a lovely tranquil finale. I hear a lot of my father's influence in it, a beautiful arrangement." - Aaron Emerson (son of Keith Emerson) regarding the song "Aspiration" 
"Some incredible music with 2K9 and 2KX. 2K9 was the beginning….getting to know each other musically, hoping that what you submitted met the criterion, listening to each other's output and certainly not wanting to overplay. In my opinion though, this process came to fruition with 2KX's 'Fast & Blue': an accord harmonically, rhythmically, and melodically. I would call a musical synchronicity. Plus I had a joyous yet challenging time contributing!" -  Steve Adams, guitarist for Lisa LaRue Project 2K9 and for 2KX 
In conjunction with the release of "Origins," Lisa would like to focus on licensing for soundtracks, television, etc., and being a guest orchestrator on other artist's projects. In closing she has this to impart, "This album brings together all of the messages of all of my albums. Heritage and culture, bringing people together from around the world, giving each other creative outlets, and finding your spirit means you've made peace with the world and yourself."
Official Website: 
https://www.lisalaruemusic. com/ 
Facebook: 
https://www.facebook.com/ lisalarue2kx 
ReverbNation 
https://www.reverbnation.com/ lisalarue 
YouTube 
https://www.youtube.com/user/ LisaLaRue2KX/videos 
Melodic Revolution 
http://mrrmusic.com/lisa- larue/ 
Nick Katona nick@melodicrevolution.com 
Press inquiries: Glass Onion PR, PH: 828-350-8158 (US), glassonyonpr@gmail.com